Whole Wheat Bagels (for Under 150 Calories!)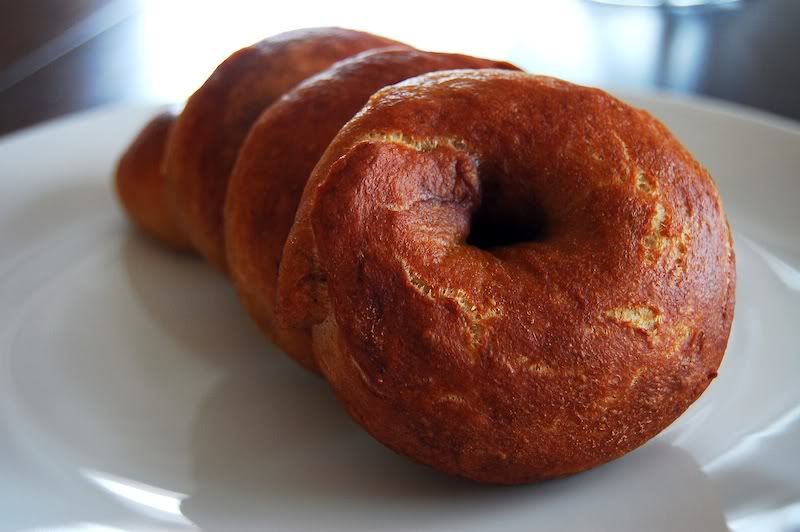 i love carbs. i also love breakfast. those who know me know that it is irrelevant what time i actually wake up, breakfast-y things must be my first meal. if they aren't, my whole day is completely thrown.
when i began to understand nutrition and what i actually should be eating the beautiful, carby, doughy breakfast staple known as the bagel was completely phased out of my life. i could not find a reasonably nutritious bagel anywhere and was resigned to pulling the somewhat depressing scooping-out maneuver whenever i had no choice but to eat one.
well, my friends, today is one for the history books. i've successfully made delicious and authentic boiled bagels that are less than 150 calories a piece. to give you a comparison, a plain bagel from panera bread has double the calories, fat, cholesterol, with only half the fiber. and that's without cream cheese! how embarrassing.
while interacting with yeast is something i shamefully try to avoid, the idea of being able to make my bagel and eat it too far outweighed my fear. this is a great recipe to try out if you're new to working with yeast, which you always want to mix with warm - not hot! - water to bring it back from the dead (or "activate" it, to be more scientific). i always buy the instant yeast in small packets and keep them in my freezer.
speaking of freezers, this is also a great recipe to make and then freeze - especially because it makes a baker's dozen. i left a few bagels out for breakfast tomorrow, but cut the rest in half and stuck them in an airtight bag in the freezer. that way, the next time i want a carby treat i can just pull one out and put it in the toaster for around double the time i would a fresh bagel. super easy!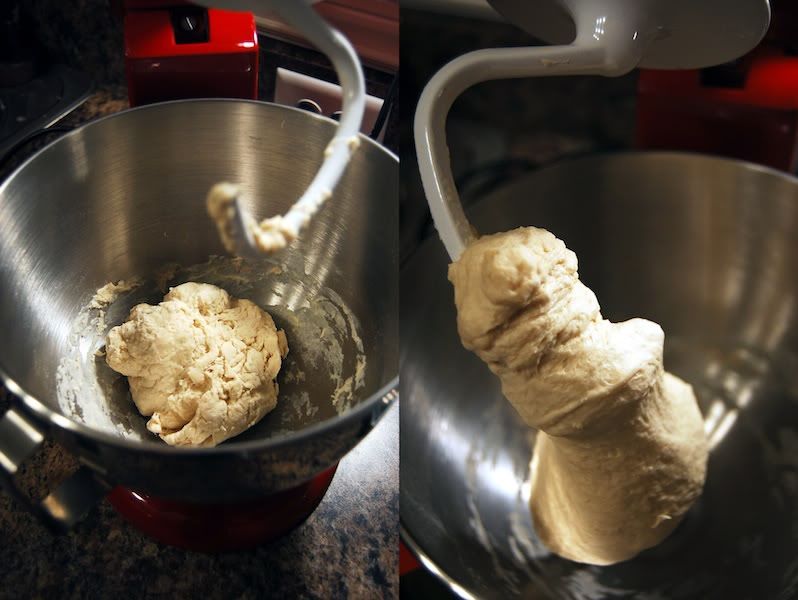 you're going to need a stand mixer and a dough hook for this recipe. you want the dough to end up smooth & not sticky!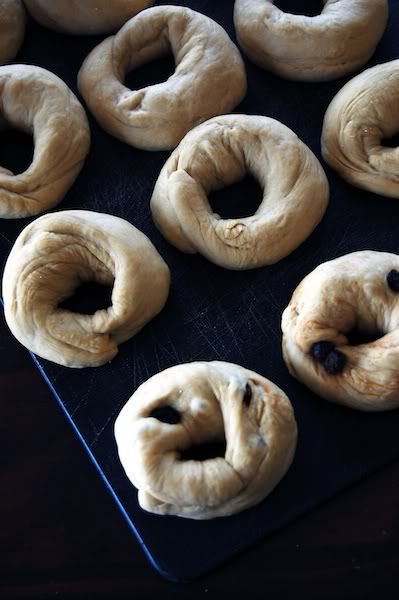 at around 7am i was standing in my kitchen with a ball of dough in front of me when i realized i had absolutely no idea how to form bagels. i know this may seem like an important step in researching a recipe, but i was so excited to make bagels in the first place a lot of my common sense flew out the window. i ended up finding this really helpful tutorial that shows you exactly how it's done, starring a man who i now refer to as my bagel sensei. you can check out his multi-step video right here!
oh, and if you don't have enough reasons to start making these immediately here's another one: they are totally customizable. i made a bunch of cinnamon raisin by sticking ten or so raisins and a splash of cinnamon in the dough before rolling them into circles. the only tip i have is that if you're going to do anything that involves toppings (e.g., poppy seed), wait until they have been boiled, drained and then brushed with a little egg white. this will help things stick while they're baking.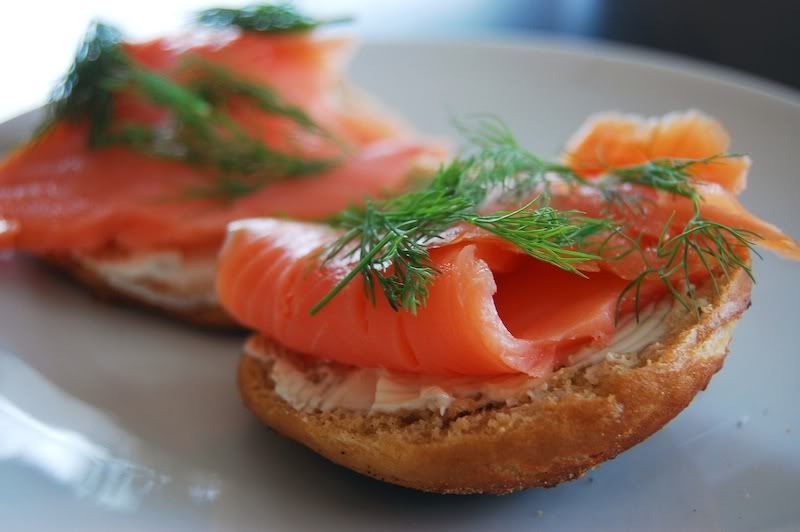 i dragged my other half out of bed this morning and he made himself an everything bagel, which then became this gorgeous lox sandwich. i'm a cinnamon raisin & cream cheese gal myself. you do with your carbs what's right for you.
whole wheat bagels
yields 13 bagels
adapted from beantown baker
pre-dough one:
8 ounces whole wheat flour
¼ teaspoon instant yeast
6 ounces (¾ cup) water
pre-dough two:
2 tablespoons molasses
5 ounces water
8 ounces whole wheat flour
½ teaspoon salt
final dough:
pre-doughs one & two
1 tablespoon water
2 teaspoons yeast
¾ teaspoon salt
7-9 tablespoons flour, plus more if necessary
1 tablespoon baking soda (for boiling)
1. in the bowl of a stand mixer fitted with the dough hook, mix all of the ingredients in pre-dough one on medium-low speed until combined and set aside for five minutes.
2. meanwhile, in a 1-cup measuring cup, stir together the molasses and the five ounces of water in pre-dough two. set aside but stirring occasionally, until the molasses dissolves into the water.
3. return to pre-dough one and knead on low speed for one minute. transfer to a small bowl and cover with plastic wrap or a damp kitchen towel and refrigerate overnight.
4. add the flour and salt for pre-dough two to the empty mixer bowl and with the mixer on low speed, pour in the water/syrup mixture. mix on medium-low just until combined. cover the mixer bowl with plastic wrap or a damp kitchen towel and set aside at room temperature for at least eight hours or overnight.
5. the next day, transfer the refrigerated pre-dough one to room temperature for a couple hours to warm up.
6. when you're ready to make the final dough, stir together the one tablespoon water and the yeast. In the bowl of a stand mixer fitted with the dough hook, mix both pre-doughs, the water and yeast, and the salt on low speed until combined. while the mixer is running, add in the flour, one tablespoon at a time, until it's fully absorbed by the dough. then, knead on low speed for 5-6 minutes, adding more flour or water if necessary to form a smooth, firm dough - it shouldn't be sticky.
7. let the dough rise at room temperature until it increases to about 1½ times its original size, about one to two hours.
8. divide the dough into 8-12 pieces, mine came out to around 65g each. shape each piece into a smooth ball, then roll each piece into a rope about ¾-inch thick. bring the ends of the rope together and gently roll them on a flat surface to seal. let the dough rest for about twenty minutes.
9. preheat the oven to 500 degrees and line a baking sheet with parchment paper or a silicone mat. bring at least three inches of water to a boil in a large pot over high heat. add 1 tablespoon baking soda and reduce the heat to medium. gently drop 2-4 bagels (as many as will fit without crowding) into the water, boiling for one minute on each side. place the boiled bagels on a wire cooling rack to drip-dry slightly, about three to four minutes.
10. place bagels on lined baking sheet and transfer the sheet to the oven, reduce the oven temperature to 450 degrees, and bake until the bagels are browned and feel hard, about 13 minutes for small bagels. (note: the bagels will soften as they cool.)
11. cool bagels on wire rack for 15-20 minutes before enjoying!

nutritional information:
calories: 144, fat: 0.5g, sodium: 226g, carbs; 31g, fiber: 4.5g, sugars: 2g, protein: 5.5g.
thank you for reading & happy baking!
amanda
ps: i know this recipe is long & a bit complicated, so if you have any questions please don't hesitate to ask!